Auckland Helicopter Experience - Volcanoes & Beaches / Coast to Coast and more
---
Auckland Helicopter Experience Volcanoes & Beaches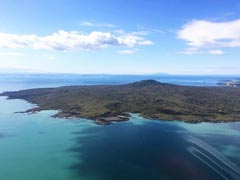 Departing from heliport, your helicopter will lift off across the glistening Waitemata harbour towards the Devonport naval base, capturing views of Auckland's Harbour Bridge, flying over the Viaduct Harbour and Westhaven Marina before flying past the Sky Tower and over the lush greenness of Auckland Domain, a central recreational park. Heading east we pass popular inner harbour beaches and suburbs of St Heliers, Kohimarama, Mission Bay and Orakei Basin. Fly over Rangitoto Island, the largest, youngest and one of the least modified of about 50 volcanic cones and craters in the Auckland volcanic field. The stunning city vista can be seen in the distance from Rangitoto's summit on the flight back to Auckland, prior to returning to heliport.
---
Auckland Helicopter Experience Island Hopper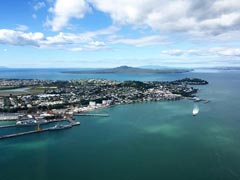 Departing from heliport, your helicopter will fly eastwards past Browns Island volcanic cone and Motuihe Island nature reserve, to beautiful Waiheke where you will cruise along its south coast bays and peninsulas. The eastern portion of our tour takes you over Ponui, Rotoroa and the stunning white beaches of Pakatoa, each island having its own unique history and land use, then back over to Waiheke and the Stony Batter historic reserve and defence complex. Flying back along Waiheke's north coast will take you past Onetangi, Palm Beach and Oneroa, plus a number of other less accessible small bays and beaches, before hopping over to have a look at Rakino and the Noises, past Motutapu and over the summit of the regions newest volcano Rangitoto. Returning to Mechanics Bay offers you views across the North Shore and then a closer look at North Head and Devonport as we make our final approach into heliport.
---
Auckland Helicopter Experience Coast to Coast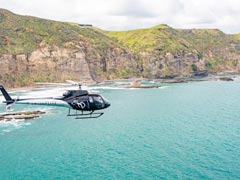 Departing from heliport, your helicopter will fly up the inner harbour over Auckland's Harbour Bridge, past Auckland's Central Business District and over Avondale Basin, Avondale Race Course and upper reaches of the Waitemata Harbour. Enjoying views of Western Springs and the Auckland Zoo along the way, while continuing west towards the Kumeu wine area until we reach Muriwai and Piha beaches. We then head south along the coast to Cornwallis, the southern tip of the well-known west coast beaches. Flying past One Tree Hill Domain, over Cornwall Park and Ellerslie Race Course as we head in the direction of the popular regional park of Motuihe Island, the eastern beaches of Okahu Bay, Mission Bay, Kohimarama and St Heliers can be seen as we fly towards the western end of Waiheke Island. Spectacular views out over the Hauraki Gulf Islands such as the extinct volcano of Rangitoto Island and Motutapu Island farm can be seen as we fly over some of Auckland's North Shore suburbs, Ngataringa and Shoal Bay to Lake Pupuke, a now freshwater filled extinct volcanic crater before descending into heliport.
---
Auckland Helicopter Experience Waiheke
Located at the eastern end of Waiheke Island, Man O' War is a stunning array of coastal hillsides, with high cliffs and pristine beaches forming a ruggedly beautiful coastline scattered with a patchwork of vines. Surrounded by Pohutukawa tress in Man O' War Bay, The Tasting Room offers a unique beach front dining escape, while the hillsides consist of 150 acres of vines carefully tended and hand harvested to produce the delicious Man O' War wine.
Volcanoes & Beaches - 15min (Shared - IFAS2)
Starting (/pax):
IDR 2.028.494
Island Hopper - 25min (Shared - IFAS3)
Starting (/pax):
IDR 3.763.853
Coast to Coast - 35min (Shared-IFAS4)
Starting (/pax):
IDR 5.088.824
Waiheke Heli/Dining/Ferry Package (Shared - IFA01a)
Starting (/pax):
IDR 6.108.933
Starting (/pax):
IDR 2.028.494