Experience Auckland - City Tour/Hobbiton Tour/Wilderness/Coromandel Tour and More
Auckland adalah kota terbesar di Selandia Baru. Nikmati perbelanjaan, santapan, dan pesona alam yang ditawarkan Auckland. Bayangkan lingkungan perkotaan di mana semua orang tinggal hanya 30 menit dari pantai cantik, jalur lintas alam, dan selusin pulau liburan menawan. Padukan iklim cerah, irama latar belakang budaya Polinesia, dan kecintaan pada makanan lezat, anggur, dan belanja, maka Anda pun mulai memahami gambaran Auckland, kota terbesar dan paling penuh warna di negeri kami.
Auckland adalah surga belanja, dengan segala hal dari karya desainer kelas-atas hingga pasar jalanan terbuka. Selagi di sini, nikmati beragam kafe, restoran, dan kehidupan malam kota ini. Tempat favorit di pusat kota meliputi Wynyard Quarter, Viaduct Harbour, dan daerah Britomart.
---
Makanan dan Anggur di Auckland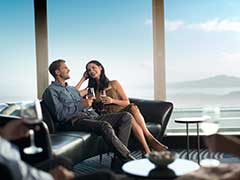 Kawasan Auckland dikenal dengan perkebunan anggur pemenang penghargaan, hasil pertanian organik, dan restoran yang ramai serta semarak. Rasakan dan nikmati pinot gris pemenang penghargaan atau anggur syrah yang kaya rasa sambil duduk santai di pantai Kota Layar. Anda dapat naik feri ke Waiheke Island yang tidak jauh, atau berkendara menuju Matakana atau Kumeu untuk mendapatkan pengalaman di perkebunan anggur kelas atas dan pasar tani. Manjakan diri Anda dengan bersantap malam di salah satu dari sekian banyak restoran di kota yang menyajikan hidangan lezat.
---
Kota Layar (City of Sails)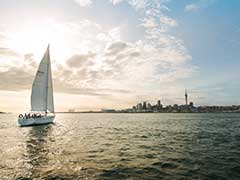 Ke mana pun Anda pergi di Auckland, Anda tidak pernah jauh dari perairan. Dari pantai selancar West Coast yang liar hingga teluk Hauraki yang tenang, laut dan segala daya tariknya membuat kota ini dijuluki Kota Layar (City of Sails). Pastikan Anda merasakan pengalaman menarik dengan pelayaran pelabuhan yang santai, carter memancing, mengamati paus dan lumba-lumba, naik kayak, atau berselancar.
---
Hobbiton Movie Set Tours, Matamata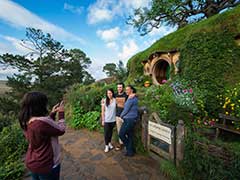 Desa Hobbiton yang permai adalah tempat paling sempurna untuk menikmati pesona terindah Middle‑earth. Ikuti tur berpemandu ke seluruh 44 Hobbit Holes yang terdapat di The Shire – dengan cerobong berasap dan bunga lonceng birunya, Anda akan merasa bagai terjun ke dalam dunia fantasi Tolkien. Selagi mampir, singgahlah di Green Dragon Inn, tempat Anda dapat menikmati makan siang ringan dan segelas besar bir keras yang menenangkan.
---
Waitomo Caves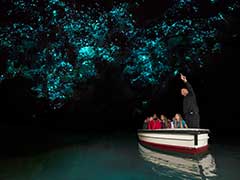 Waitomo Caves yang menakjubkan digunakan untuk merekam sebagian audio untuk The Hobbit: An Unexpected Journey. Sungguh pengalaman bagai dunia lain; banyak dari gua-gua ini memiliki stalaktit dan stalagmit yang terbentuk di dalamnya, dan dindingnya dipenuhi cacing pendar yang berkilau kerlap-kerlip. Jelajahi gua dengan tur berjalan kaki, atau cobalah arung jeram bawah tanah, atau abseiling (turun tebing) dalam kegelapan.
---
Coromandel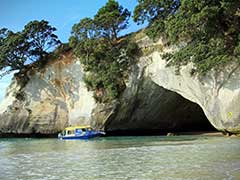 Coromandel, dengan pantai perawan, hutan asli, dan suasananya yang santai, merupakan salah satu destinasi liburan paling populer dan paling disukai di Selandia Baru. Menikmati pemandangan dengan teropong ke seantero teluk dari Auckland, Coromandal adalah segala yang tidak dimiliki kota besar. Berselimut hutan hujan asli dengan pantai berpasir putih yang berkilauan, tempat ini begitu sederhana, murni, dan santai. Aktivitas dan objek wisata berlimpah. Anda dapat berjalan-jalan di teduhnya semak belukar yang masih asli - Coromandel adalah surga bagi pejalan kaki – atau hanya duduk dan bersantai di kolam air hangat yang bergelembung Hot Water Beach.
Auckland City Revealed (Half Day) BB1
Starting (/pax):
IDR 785.602
Wilderness Experience (Half Day) BB2
Starting (/pax):
IDR 1.512.577
Auckland Whale & Dolphin Safari
Starting (/pax):
IDR 1.500.851
Auckland in the Afternoon
Starting (/pax):
IDR 1.618.105
Big Beer Tour
Starting (/pax):
IDR 1.418.773
Tastebud Tour
Starting (/pax):
IDR 2.005.043
Best of Both Worlds (Full Day) BB3
Starting (/pax):
IDR 2.251.277
Coast and Rainforest Walk (Full Day) BB4
Starting (/pax):
IDR 2.391.982
Hobbiton Express Tour (Full Day)
Starting (/pax):
IDR 2.884.448
Hobbiton Express Tour - Auckland to Rotorua - One Way- HOBAR
Starting (/pax):
IDR 2.884.448
Kumeu Wine Country with Lunch (Half Day) - GTT4
Starting (/pax):
IDR 2.345.080
A Taste of Auckland (Full Day) - BB8
Starting (/pax):
IDR 3.072.055
Caves and Kiwi - The Waitomo Experience - BB9
Starting (/pax):
IDR 2.978.252
Great Tastes of Matakana (Full Day) GTT3
Starting (/pax):
IDR 3.224.485
Black Water Rafting and Kiwi - The Waitomo Experience BB9BW
Starting (/pax):
IDR 3.271.387
Coromandel Day Tour (Full Day) BB5
Starting (/pax):
IDR 3.716.952
Auckland Untamed Island Tour - Great Barrier (Full Day) BB6
Starting (/pax):
IDR 8.500.915
Starting (/pax):
IDR 785.602