Sky City Auckland - SkyWalk / SkyJump
---
Attraction at SKYCITY you can have the time of your life any day of the week, visiting some of our famous attractions. Journey up the Sky Tower to discover the biggest view in Auckland and two activities to challenge your sense of adventure - SkyWalk and SkyJump. Back at ground level, SKYCITY Theatre has an ever-changing programme of live entertainment - drama, comedy, singing, dancing, musicals, magic shows and more.
Sky Tower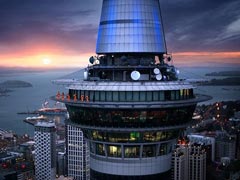 The Sky Tower has stood tall at 328 meters as an icon of Auckland's sky line for almost 20 years. It's an exciting hub of adrenaline activities, superb dining and breathtaking views. If you're visiting Auckland for just one day, then a trip up the Sky Tower is a must. At the base of the Sky Tower, the SKYCITY Auckland entertainment complex is home to two world-class hotels, Auckland's premier dining precinct with over 20 bars and restaurants, a 700 seat theatre and a world-class Casino*. There is a lot to explore at SKYCITY Auckland.
---
SkyJump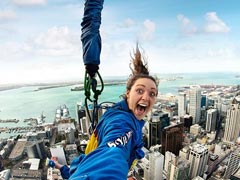 The rush is unbeatable! Leap off the famous Auckland Sky Tower and fall 192 metres straight down. An unforgettable experience for true daredevils, base-jump by wire off the tallest man-made structure in New Zealand. SkyJump operates from 10am - 6pm daily.
---
Skywalk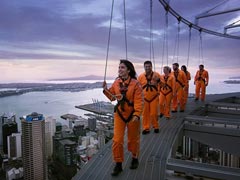 Take in the spectacular views of Auckland while walking around the 1.2 metre wide platform a dizzying 192 metres up! A full body harness and overhead safety lines keep you safe as you walk the edge of Sky Tower's pergola.
SkyWalk
Starting (/pax):
IDR 1.477.400
SkyJump
Starting (/pax):
IDR 2.298.178
Look and Leap Combo/SkyWalk & SkyJump
Starting (/pax):
IDR 2.954.801
Starting (/pax):
IDR 1.477.400